In this episode, I talk with Frank Bealer about how to help volunteers lead like staff. At Elevation Church, volunteers are empowered to lead in big ways in every ministry. We talk about what those roles look like, how to recruit volunteers, what Elevation does to help volunteers get their culture and how they ensure volunteers are cared for and heard from.
You'll want to follow Frank on social media as well as check out his blog, and all of that is in the links below.
Frank Bealer
Connect with Frank on Twitter | Facebook | Instagram
Links Mentioned in this Episode
eKidz Worship Album – One in a Million
eKidz Worship Album – Undefeated
4 eKidz Values in addition to The Code
eKidz Faith Starter Kit (for parents talking with their kids about salvation)
Volunteer Recommitment Process (how it's managed)
Volunteer Recommitment Survey (volunteers complete, changes slightly each time)
Volunteer Renewal Tracking Report
Hits & Misses / Weekend Exchange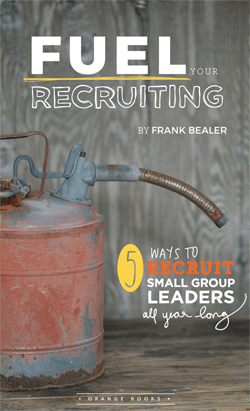 Fuel Your Recruiting
This is an upcoming e-Single by Frank on 5 Ways to Recruit Small Group Leaders All Year Long. Think of it as a short e-book. I've read it. It's great and it will be available soon on Amazon. When it is available, I'll update this link and mention it in the intro of the current podcast so you're aware, because you don't want to miss it!
Subscribe | Share | Rate | Comment
To make sure you never miss a post, hit the subscribe button in iTunes, Google Play, Stitcher, or Tune In radio. Keep your friends and co-workers up-to-date as well by sharing it with them via email or social media.
Leave a rating and a comment in iTunes to let me know how this podcast is helping you and your ministry. Also, let me know how we can make it better!
Next Episode: Christine Kreisher
In the next episode, we talk with Christine Kreisher, Family & Connections Pastor at GT Church, about the book she co-authored: The Volunteer Project: Stop Recruiting and Start Retaining. Be sure to subscribe so you don't miss it!