In this episode, I talk with Sherry Surratt, the Executive Director of Family Strategy at Orange, about a year long strategy for partnering with parents. Sherry shares what a 12-month plan looks like practically for your ministry, and previews some of the things Orange is working on to help church leaders in partnering with parents even more effectively.
Sherry Surratt
Connect with Sherry on Facebook | Twitter | Instagram
Email: ssurratt@rethinkgroup.org
Links Mentioned in This Episode
MOPS (Mothers of Preschoolers) – An organization that seeks to celebrate motherhood, connect moms, and equip, encourage, and mentor them. Hosting a MOPS group is a great way for a church to reach young families.
GoWeekly – A resource that helps church leaders connect with their small group leaders and partner with parents every week
Leader–>Parent: Events, kits, and things to talk about at the dinner table, in the car, or during other naturally occurring moments
Church–>Parent: The ParentCue connects parents to what their kids learned that week, complete with questions and discussion starters
Directly–>Parent: Parent Cue Blog, Parent Cue Podcast, and the Parent Cue App
Orange's Social Media Plan for Leaders – Orange's weekly social media plans that help leader partner with parents. Posts correspond to the weekly teaching and cue the parent during natural moments like morning time, meal time, drive time, and bedtime.
Just a Phase – A project dedicated to helping parents understand and leverage each phase of their child's life
Phase Guides (books) – Individual books that each focus on a different year and phase of a child's life. These guides are designed to help parents make the most of each phase.
Levels of Partnership With Parents (article) – The different levels of engagement and partnership the church has with parents
Orange Conference 2018 – Orange's annual conference for children, student, and family ministry leaders. Registration opens October 12.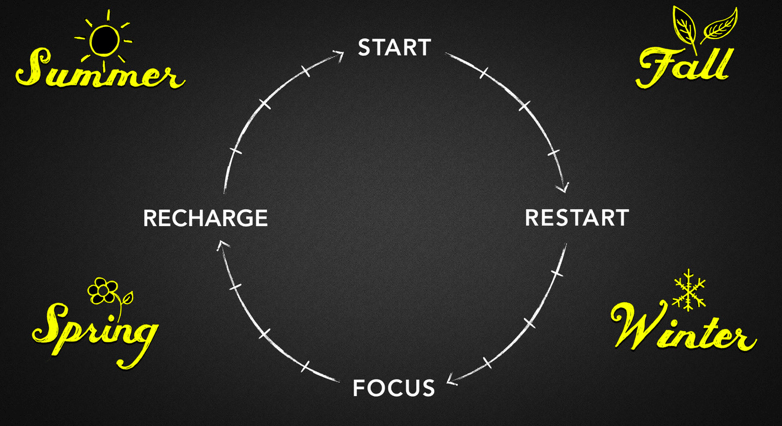 Fall–Start: Families are thinking new rhythm. Introduce families to small group leaders, consider having an open house event, and/or bring in Just a Phase materials to let parents know you're there to help them through each age and stage.
Winter–Restart: Families are thinking about developing healthy habits. Provide small group opportunities.
Spring–Focus: Families are thinking: How can we finish well? Send encouragement through a weekend message and/or a handwritten note.
Summer–Recharge: Families are thinking: How can we spend the summer well? Create opportunities and environments that the family can experience together like a movie night, date night kits, a family challenge, or a list of free ideas for a family to do in your community.
Action Items
Download the Annual Family Wheel, print it, and plot what you currently do to partner with parents on that wheel by season
Evaluate what fits and what doesn't fit
Trim your current plan down and focus on one thing each season, or design your wheel from scratch and start with one thing
Subscribe | Share | Rate | Comment
To make sure you never miss a post, hit the subscribe button in iTunes, Google Play, Stitcher, or Tune In radio. Keep your friends and co-workers up-to-date as well by sharing it with them via email or social media.
Leave a rating and a comment in iTunes to let me know how this podcast is helping you and your ministry. Also, let me know how we can make it better!
Next Episode: Ricardo Miller
In the next episode, I talk with Children's Pastor and Evangelist, Ricardo Miller. We have a great conversation about the top mistakes that ministry leaders make. Ricardo shares from the perspective of a children's pastor, but the list and principles he walks through apply across the board to leaders in all areas of ministry.